Plastivision, the international plastics and rubber exhibition in Mumbai, India, has been one of the top ten plastics professional exhibitions in the world, and has maintained high visibility and far-reaching influence in the world. The exhibition is hosted by the All India Manufacturing Association (AIPMA). It is expected that there will be more than 1,500 exhibitors from well-known Indian and foreign companies from more than 60 countries, and more than 25,000 professionals will visit and purchase. The 17-year Mumbai International Plastic Exhibition Hall covers an area of more than 90,000 square meters. During the exhibition, well-known companies in the plastics industry will demonstrate the use of plastic products machinery and molds, and printing machinery and packaging machinery and equipment operation demonstrations.
The last Mumbai Plastics Exhibition in India reached an area of 55,000 square meters, with a total of 1027 exhibitors and 73,000 professional visitors. Exhibitors and visitors come from Germany, the United Kingdom, France, Portugal, Italy, the United States, China, Taiwan, Korea, Japan, Singapore, Austria, Bangladesh, Nepal, Bhutan, Myanmar, Thailand, Sri Lanka, UAE, Oman, Saudi Arabia, Nigeria, South Africa, Uganda, Tanzania and more than 30 countries. Interviews with some Chinese exhibitors on the exhibition results, 90% of them are satisfied with the results of the exhibition, most companies received orders at the exhibition site, more than 70% expressed willingness to participate in the next Mumbai Plastics Industry Exhibition.
Mumbai India Plastics and Rubber Exhibition Plastivision is organized by the Indian Manufacturing Association (AIPMA). The exhibition is held every three years. This exhibition is also a very important platform for companies to open the Indian market. India 's Mumbai Plastics and Rubber Exhibition Plastivision attracted 1500 companies in the last session. The number of exhibiting companies reached 25,000. The exhibition was held at the Bombay Exhibition Center in Mumbai, India, and the exhibition area reached 90,000 square meters.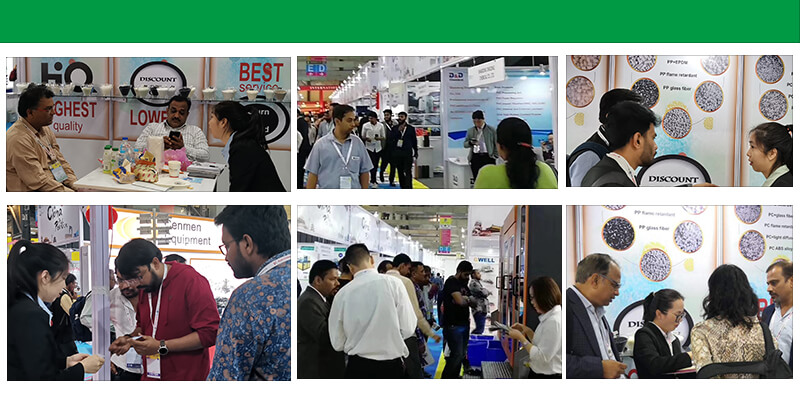 During the exhibition, High quality engineering plastic was strongly supported by visitors. Some customers have taken samples on the spot. Long fiber reinforced thermoplastics exhibition counts down one day, I hope that customers who intend to use long glass fiber and long carbon fiber reinforced to hurry to visit.
PP Polypropylene with long glass fiber;
PPS Poly phenylene sulfide long glass fiber;
Exibition name: PLASTIVISION INDIA 2020
Time: 16-20 Jan 2020 (Position: E10-02 XIAMEN KEYUAN PLASTIC Contact: Ms Hetty & Tracy)
A.D: Bombay Exhibition Centre
Venue A.D: Nesco Complex Ground Off Western Express Highway, Goregaon, Mumbai, Maharashtra-400063