Plastic Processed: PP/PA/Pet/PBT/PPA
Feeding Mode: One Feed
Screw: Twin-Screw
HS Code:3908909000
Apply to lots of thermoplastic resin such as PP, PA, PET, PPA, PBT,TPU...
Reinforced fibre: glass fiber, carbon fiber,basalt fiber.
Content of fiber: 20%,30%, 40%, 50%, 60%.
Methods of fiber discharge:internal and external.
Long fiber reinforced thermoplastics(LFT) can be subdivided into LFT-G and LFT-D and so on according to the processing.Xiamen LFT compostie plastic Co.,ltd used LFT-G processing to manufacturing long fiber reinforced thermoplastics;
The key points of the LFT-G production line that developed by Xiamen LFT composite plastic factory are the struction optimization of melt impregnation mould and the automatic control.High degree of melt impregnation,less demage of fiber, stable and controllable of precess, high production efficiency.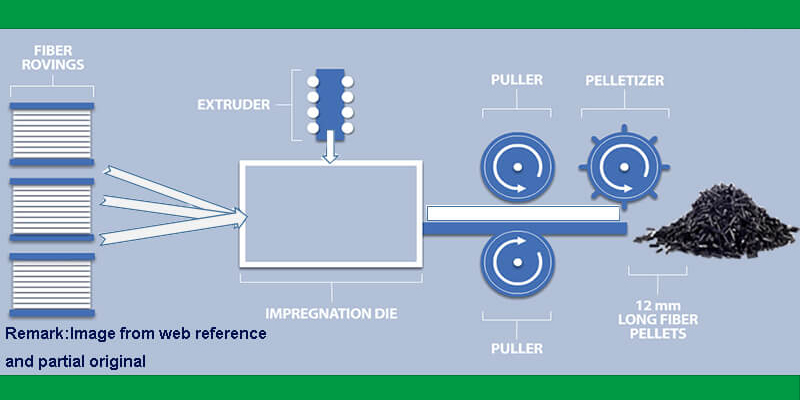 The length of the long fiber reinforced granular material produced by LFT-G technology is controllabel.PPA with long glass fiber. The length of final products is not less the 10-12mm. High strength, higher modulus of elasticity, higher impact resistance, long service life of this final products, that have broad prospects in the lightweight, high performance of components in the aerospace, automotive, construction, appliances and other industries.
*The blending strength and tensile strength increase 100%-300%.
*The impact resistance increases by 2-3 times.
*Excellent performance of high temperature resistance and creep resistance. Fits the occasion where high temperature and low temperature alternate frequently.
*High dimensional accuracy. Low distortion. Low as well as the same longitudinal and transverse shrinkage rate .
* Simple forming precess. Excellent performance of fatigue resistance.
* Low warping. The glass fiber is hardly revealed. Better surface property.
* Recyclable, reusable. Environmental.