MXD6
Nylon - MXD6 is a kind of crystalline polyamide resin, which is synthesized by the condensation of m-benzoylamine and adipic acid.
The advantages of nylon MXD6
1. in a wide range of temperature, maintain high strength, high rigidity

2. High thermal deformation temperature and small thermal expansion coefficient

3. Low water absorption rate, small size change after water absorption, less mechanical strength reduction

4. forming shrinkage rate is very small, suitable for precision forming processing

5. excellent coating, especially suitable for high temperature surface coating

6. oxygen, carbon dioxide and other gases also have excellent barrier
Application of MXD6 in plastic modification industry
MXD6 can be combined with fiberglass, carbon fiber, mineral, and/or advanced fillers for use in fiberglass reinforced materials containing 50-60% and for exceptional strength and stiffness.

Even when filled with high glass content, its smooth, resin-rich surface produces a fibre-free high gloss surface, ideal for painting, metal-plating, or creating naturally reflective shells.

1. suitable for high liquidity of thin wall
It is a very fluid resin that can easily fill thin walls as thin as 0.5 mm thick even when the glass fiber content is as high as 60%.
2. Excellent surface finish
A resin-rich perfect surface has a highly polished appearance, even with a high glass fiber content.
3. High strength and stiffness
The tensile and flexural strength of MXD6 is similar to that of many cast metals and alloys with the addition of 50-60% glass fiber reinforced material.
4. good dimensional stability
At ambient temperatures, the linear expansion coefficient (CLTE) of MXD6 glass fiber composites is similar to that of many cast metals and alloys. Strong reproducibility due to low shrinkage and the ability to maintain tight tolerances (length tolerances as low as ± 0.05% if properly formed).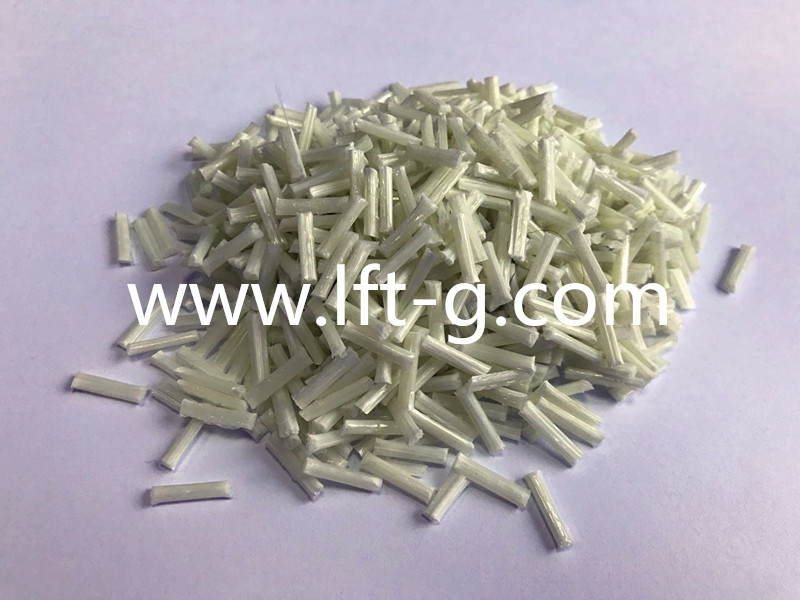 Datasheet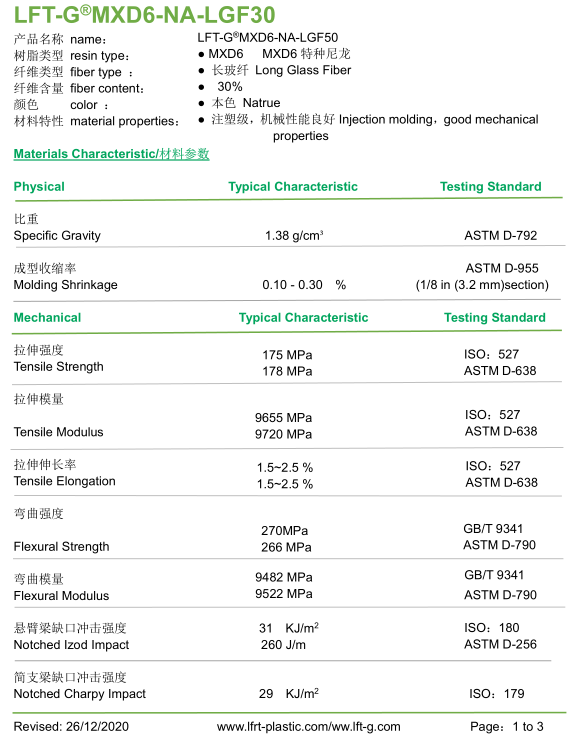 Tested by our own lab, for reference only.
Frequently asked questions
1. How to choose the fiber content of the product? Is the larger product suitable for higher fiber content material?
A. This is not absolute. The content of glass fiber is not more is better. The suitable content is just to meet the requirements of each products.
2. Can products with appearance requirements be made of long-fiber materials?
A. The main feature of LFT-G thermoplastic long glass fiber and long carbon fiber is to show the mechanical properties. If the customer has bright or other requirements for the appearance of the products, it needs to be evaluated in combination with specific products.
3. Are there any special process requirements of long carbon fiber injection molding products?
A. We must consider the requirements of long fiber for the injection molding machine screw nozzle, mold structure and injection molding process. Long fiber is a relatively high cost materiaql, and need to evaluate the cost performance problem in the selection process.