Product Name

LFT PBT enhance thermoplastic for home applicances

Color

Natural & Customers

Product Size

5-25mm

PBT Pellets Advatages

1. high toughness

2. low warpage

3.94-vo flame retardant

4.high quality

5. low price

Resin
pbt raw material
Shipment port
Xiamen,Fujian province
If you want to know more,please contact us sale04@lfrtplastic.com


Engineering plastics PBT filling long glass fiber heat resistance, weather resistance, drug resistance, good electrical properties, small water absorption, good gloss, through modification to meet the requirements of different plastic products, PBT enhanced, flame retardant PBT modified materials are widely used in electronics and electrical appliances, automotive parts, machinery, household products and other fields.

Enhanced modification: add glass fiber into PBT resin, glass fiber and PBT resin fully fusion, infiltration, not only to maintain the chemical resistance of PBT resin, processing and other original advantages, but also can greatly improve its mechanical properties, and overcome the PBT resin notch sensitivity.
Flame retardant modification: PBT can meet the grade of 94-V0 only after adding flame retardant and other additives.This property enables PBT to be widely used in home appliances and so on, to prevent fires caused by electric shocks at a time.Reassure the user.


Connectors: Bridges that transmit electrical signals and power connections. PBT is usually blended with 30% glass fiber.Modified PBT material has mechanical properties, solvent resistance, good forming processing, high cost performance.
Heat dissipation fan: It is placed in the machine to rotate for a long time to help heat dissipation. PBT modified material has high requirements of heat resistance, fire resistance, insulation and mechanical strength. PBT material is usually applied in the form of adding fiber 30% to the outer frame of the heat dissipation fan and fan blade coil shaft.
Automotive: Car bumpers on the common PC/PBT.In addition, PBT can also be used for car window motor shell, locomotive motor parts, car transmission gear box, etc.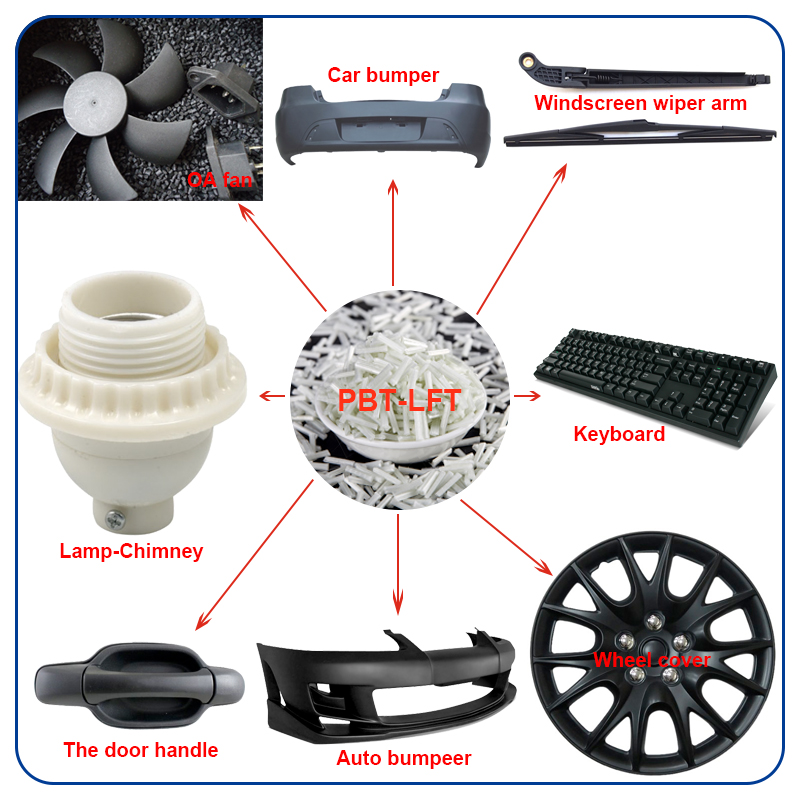 Another FAQ or question ,Please contact Ms lucy,sale04@lfrtplastic.com