Product infos /PA6 66 Nylon polymer lgf Polyamide pa6 66 pellets
By mixing materials such as pa6 and pa66, long glass fiber and blue reagent, a long glass fiber material of pa66/pa6 is formed. The appearance of the material is blue, which is a very distinctive and beautiful color. The material properties of pa6/pa66 with long glass fiber can also achieve a good commission. Not only does it combine the advantages of the two materials, but the long glass fiber also improves the performance defects of the two materials.
| | | | |
| --- | --- | --- | --- |
| Product name | Color | Grade | Sample |
| PA6 66 Nylon polymer lgf Polyamide pa6 66 pellets | natural black white blue or customized | injection grade and extrusion/ | 1-5 free |
| Packing | Shape | Deliver time | Port |
| Usually 25kg/bag mass producation /Pallets ;Samples package based on your requirements | granules/Chips/ Long Pellets | Via seashipments FCL OR LCL ABOUT 20-35DAYS, Via airsihpment about 3-15 days | xiamen or Guangzhou Shenzhen ,accoring your requirements proceedly PA6 66 Nylon polymer lgf Polyamide pa6 66 pellets |
Product Application/PA6 66 Polymer Nylon lgf Polyamide PA6 66 Pellets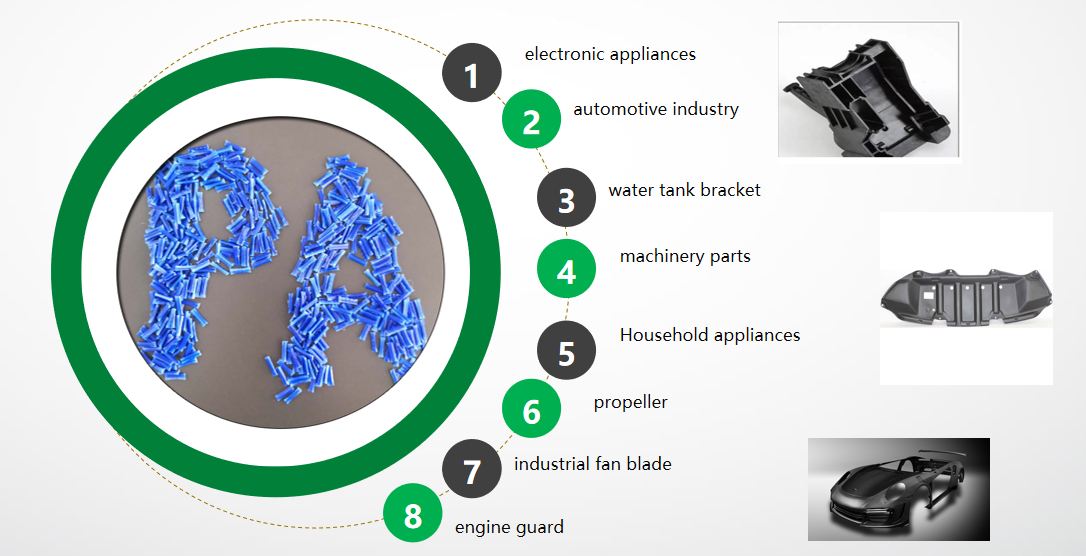 Pa6/pa66 extended glass fiber is widely used in automobile parts, such as automobile gear shifters. Of course, it is also suitable for electronic and electrical, sports equipment, power tools, high-speed rail compensation cases, large gears, etc. Our company's PA6/PA66 materials have been used to make; water tank brackets, propellers, engine guards, industrial fan blades, etc. Since the length of the long fiber is 5-25mm, it is more suitable for products with larger body and relatively hard texture.
Production details/More details:sale02@lfrtplastic.com;Ms Amy 0086 139 5009 5727